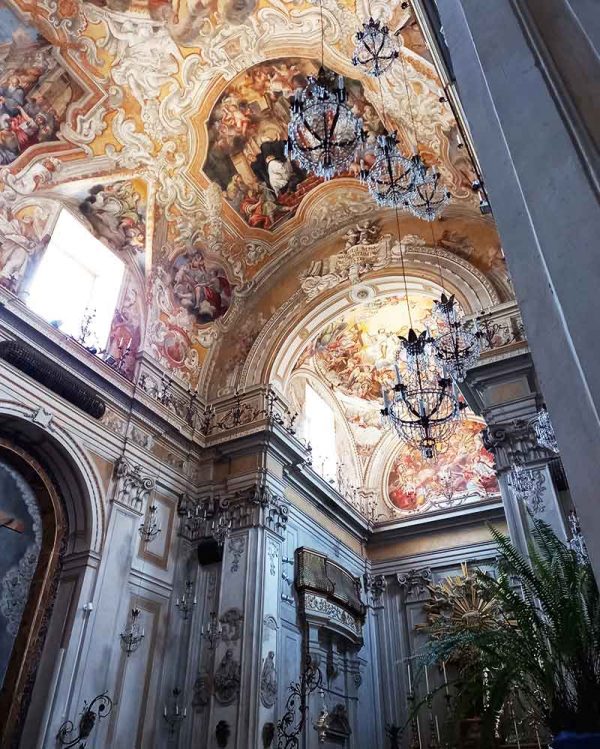 The Tour
Church of

Saint Benedict's
Considered one of the most beautiful churches in Catania, perhaps the most beautiful, the Church of San Benedetto is a triumph of Baroque frescoes and architecture.
The church was built in the early decades of the 18th century, designed by architect Alonzo Di Benedetto – who was responsible for the church's façade. But it is the interior that leaves the observer speechless. The church vault was entirely frescoed by Giovanni Tuccari between 1726 and 1729. However, during the following century, most of the frescoes in the vault were covered with white plaster at the behest of the architect Antonino Battaglia, who wanted to make the interior of the church more sober and in line with the taste of the time.
Today we can once again see the church as it was conceived in the 18th century thanks to the restoration work carried out by architect Armando Dillon immediately after the end of World War II. In 1943, in fact, a bomb hit the vault, creating a gash that broke through the white plaster that had covered the vault for over a century and which made it possible, from 1948, to work on the restoration of the frescoes below.
The expressive power of the frescoes
Wonderful perspective
and Baroque theatricality
The rediscovery of the frescoes

by Tuccari
There are three orders of frescoes that we are able to see today. The first, represented by the frescoes in the lunettes, depicts the theological virtues and the cardinal virtues, interspersed with images of episodes from the life of St Benedict. In particular, the foundation of the Monastery of Montecassino, the meeting with the Goth king Totila, the conversion of Mauro and Placido and the miracle of the sickle are described. But the baroque magnificence of the church is fully developed in the central part of the vault, where the Triumph and the Viaticum of St Benedict are depicted. Both frescoes are a rare example of admirable perspective and baroque theatricality, thanks to a skillful contrast of dark and bright colours, which explodes in all its expressive power in the frescoes of the presbytery, above the altar, the focal point of the entire church, which attracts the attention of the observer as soon as he enters the church.
Also worth noting is the choir loft, the place for the cloistered choir, which characterises every church in a women's monastery. Made of gilded wood in 1712, it is characterised by its shape – reminiscent of the stern of a Spanish galleon of the time – and by being on two levels, both used by the monastic community.
Church of Saint Benedict's
Photo Gallery